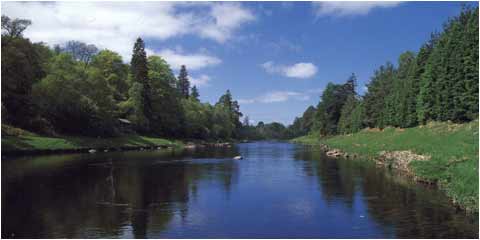 Welcome to www.riverdee.co.uk. This site has been designed to provide prospective guests and fishing tenants with a profile of the Little Blackhall & Inchmarlo fishings, situated approximately three miles west of Banchory on the middle reaches of the River Dee.

The Little Blackhall fishing lodge stands on the site of Blackhall Castle (demolished in 1947) and enjoys a wonderfully secluded position close to the river, surrounded by magnificent trees planted as part of the Castle's arboretum.

Laird's Cast is situated on the North bank overlooking the House Pool some 50m away.

Little Blackhall & Inchmarlo benefit from both seclusion and accessibility, albeit that it lies within the heart of Deeside, an area reknowned for its scenery and the many sporting pursuits which take place in the vicinity. Banchory is now most prominent amongst the Deeside towns and offers an excellent range of facilities including two eighteen hole and a nine hole golf course. The area is rich in history with numerous castles and gardens to visit, such as Crathes, Craigievar, Castle Fraser and Drum.

Aberdeen with its international airport at Dyce is only 22 miles distant and offers further extensive facilities befitting a city serving the north east of Scotland.